Lagoon Discovery Sea Scooter Safari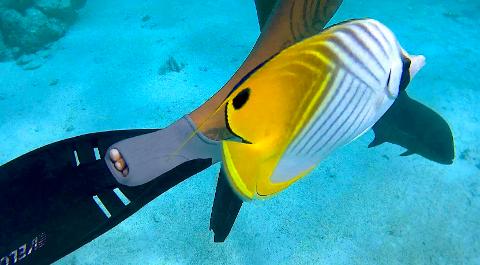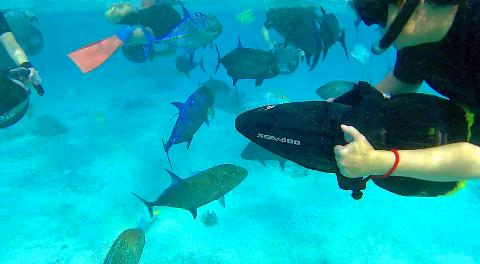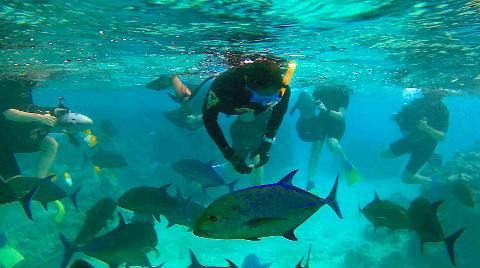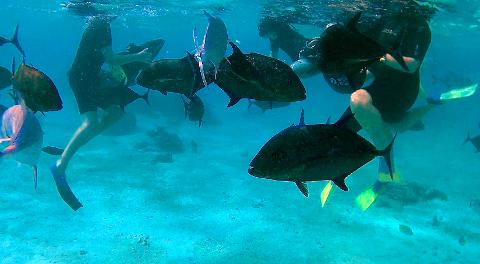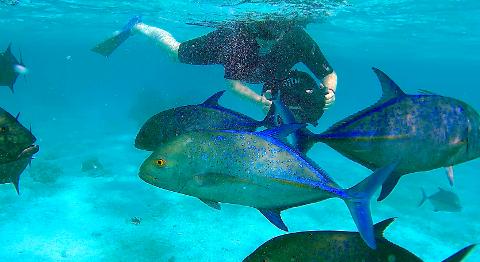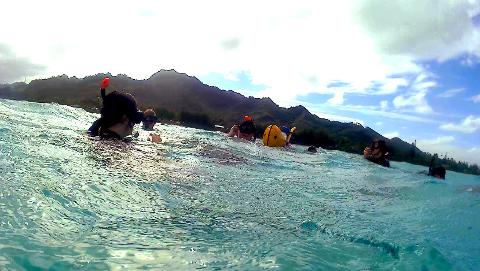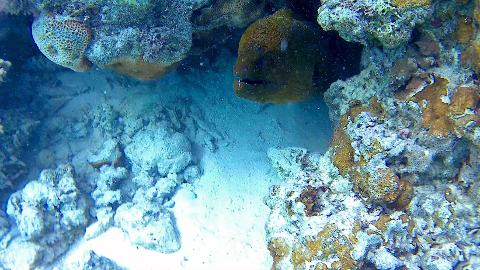 Duration: 2 Hours (approx.)
Product code: LD
Explore the stunning Rarotongan lagoons with our experienced team, snorkeling amongst schools of fish and coral on an Ariki Sea Scooter!
Overview:
Perfect family fun! If you or the kids love the lagoons but aren't quite ready for the ocean or the passages then our Lagoon Discovery is perfect for your group.
Explore the wonders of our lagoon entirely within the safety of the reef. No fish with big teeth in here! You'll sea scooter through what we call the "Coral Canyons" and through schools of tropical fish as we head out towards the reef. We'll be pointing out points of interest along the way. We can encounter Moray Eels, Bluefin & Blackfin Trevally, Eagle Rays and if you are lucky we often see our Sea Turtles. You'll see the Giant Clams we call "Paua" and see how we are trying to repopulate the lagoon with these now protected species.
You'll learn about our coral reefs, the habitat and what we are doing to protect this resource for future generations. As the Eco-Adventure Tourism Award Winner in 2020, you can trust that our tours are eco-friendly and that your safety is our number one priority. Every client gets to use our unique eco-friendly sea scooters to pull you through the water and assist you during your tour.
Conservation & Credibility
· We are the only tour operator who sponsor "Te Ara O Te Onu" The Cook Islands Sea Turtle Conservation Society. Five percentage of your tour fee goes to the Society whose aim is to protect our Sea Tutles for future generations. Thank you!!
· Air New Zealand Eco-Tourism Awards Winners 2020.
· Air New Zealand Outstanding Kia Orana Spirit Awards Winner 2020
Highlights
Sea Scootering the Coral Canyons is absolute fun. We give you a chance towards the end of the Safari to explore by yourself.
Ever seen a Moray Eel close up? If we are lucky we will get to see one of these fantastic eels. Did you know there are over 200 species of Moray Eel in the Cook Islands?
We feed the fish and you'll get to experience the Bluefin Trevally during a feeding frenzy.
Riding our eco-friendly sea scooters is also a lot of fun and they are also a safety tool unique to Ariki Adventures.
What To Expect
Itinerary
We meet at our café, The Flying Turtle Cafe, in Arorangi 20 minutes before the Tour starts. Feel free to grab a coffee or a smoothie, check out our merchandise including rash shirts tees and snorkeling gear. Take a self-guided walk through our marine life info-graphic poster-boards and learn about the environment. Once everyone has checked in we travel to our point of departure in Tikioki.
The 90 minute adventure starts with a quick safety brief, then we fit you with mask, snorkel although we encourage people to bring their own. We fit you with fins and you'll complete your Sea Scooter Operators course.
Then we launch into the southern lagoon straight off the beach. You'll cruise out through the Coral Canyons towards the reef using our sea scooters as your eco-friendly safety vehicle. You zoom through the canyons seeing our beautiful tropical fish. We then zoom along the inside of the reef towards the Giant Clam farms where we will learn about these amazing shellfish. After an amazing experience feeding the Bluefin Trevally we head back towards the Coral Canyons where we give you some FREE-time to explore by yourself before we head back to the beach and our finish location. Our professional Guides are pointing out marine and environmental points of interest along the way.
You are welcome to take your own underwater cameras and we post a few images onto our own photo site which you can purchase and share with friends. You can also hire a GoPro for any of our tours so that you can capture raw footage and take your memories home with you.
If you enjoyed our Lagoon Discovery Safari, check out our other sea scooter safaris including the Turtle and Shipwreck Safaris. We also have the magical Night Paddle Tours with our paddleboards lit up with LED lights at night.
After the Safari, come on back to the Flying Turtle Cafe where you'll enjoy a 10% discount off all food and beverages not already on special.
COVID-19 Procedures
· Guides required to regularly wash hands
· Gear/equipment sanitized between use
· Hand sanitizer available to travellers and staff
· Practical social distancing enforced throughout experience
Important Information
Departure Point: Flying Turtle Cafe, main road Arorangi (between the Crown Beach Resort and The Edgewater Resort), Rarotonga, Cook Islands unless otherwise stated.
Duration: Allow 2.5-3 hours
Return Point: Returns to the Flying Turtle Cafe
Inclusions:
· Individual Sea Scooter
· Safety gear, including life jackets, rescue tubes rescue paddleboards.
· The best Adventure Guides in the Cook Islands
· Mask & snorkel. Note: Due to COVID 19, we are recommending all guests bring their own mask and snorkel however we will provide if you don't have your own.
· Fins or flippers
· Shorty wetsuits
Exclusions:
· Travel to/from Departure Point
Additional Information
Guests must be able to swim comfortably in the sea
Guest must be comfortable in deep water.
Not recommended for pregnant guests.
Minimum age is 7 years old but subject to Crew Chief approval.
Children under 12 years of age must be accompanied by an adult.
Availability: This tour is for small groups of no more than 10 people. We will do our best to book you on your preferred date and time but due to other bookings this may not be available. If your preferred time is not available we will contact you to offer an alternative date and time.
People with medical conditions should declare them to us at the time of booking so we can consider their situation. It won't necessarily preclude them but we may have to insist on safety measures.
Guests with disabilities. We have experience in taking out guests with disabilities. Please ask so we can consider the situation and if we can make it happen safely then we will. Please ask.
Cancellation Policy
· Cancel at least 48 hours in advance to receive a full refund.
· Cancellations within 48 hours are not subject to refund unless COVID 19 related or a serious medical condition. Being hungover is not considered a serious medical condition.